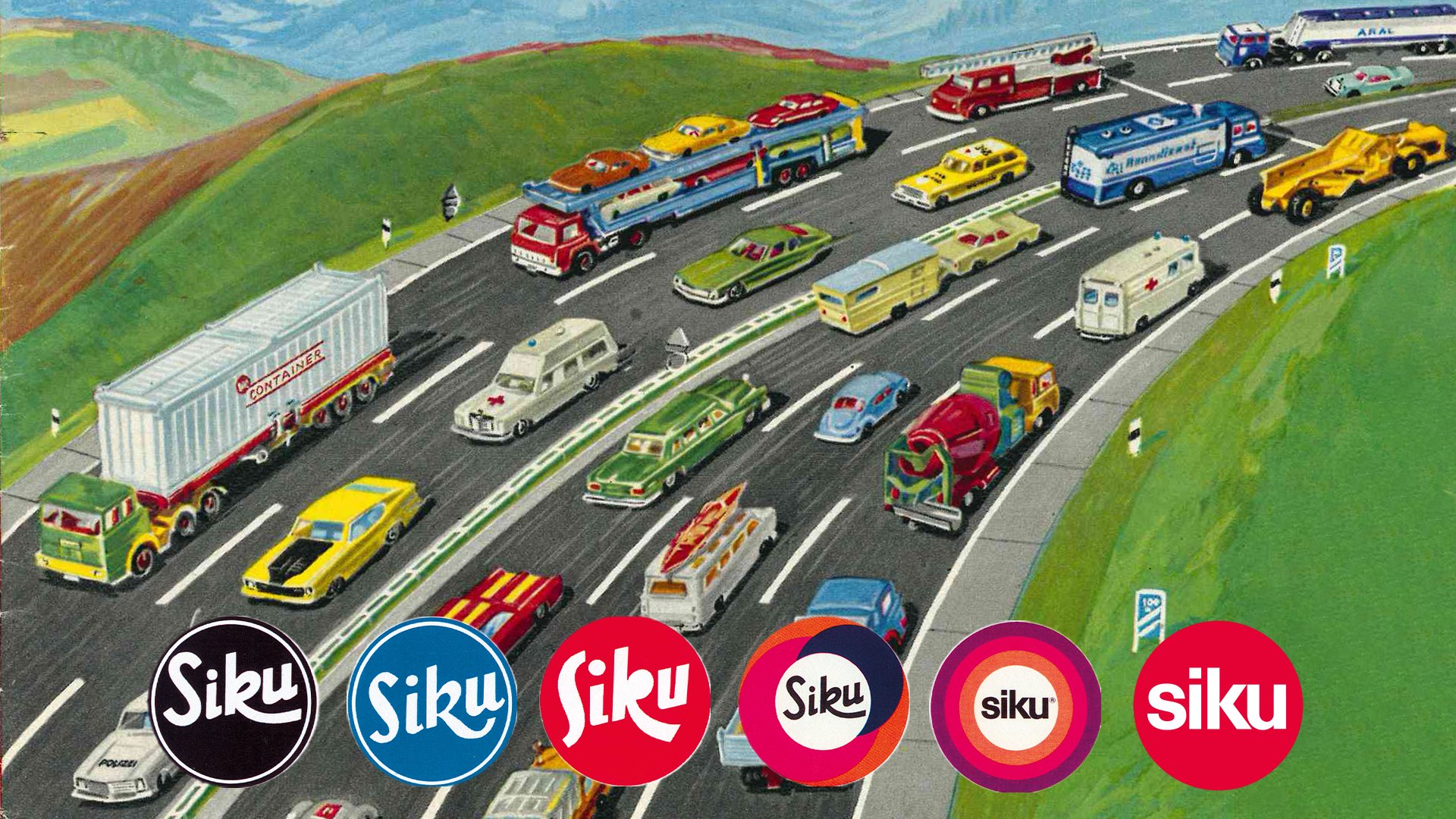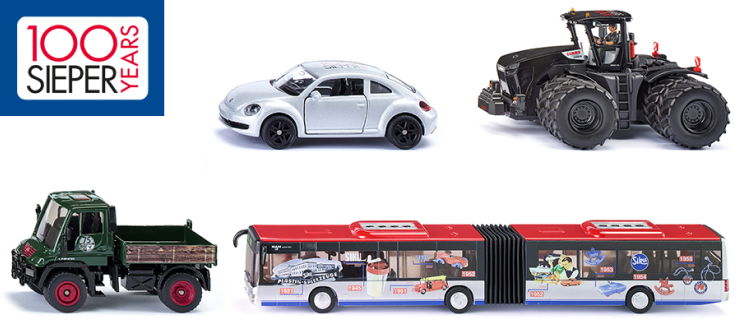 2021
THE SIEPER GROUP CELEBRATES ITS ANNIVERSARY: NEW LIMITED SPECIAL EDITIONS FOR 100 YEARS OF SIEPER
This year, the Sieper Group is celebrating its birthday - and siku is taking this as an opportunity to provide some coveted limited edition models with the "100 years Sieper" logo. Selected models in the blister range, the SIKUSUPER series as well as in the SIKUCONTROL range will be available in limited quantities in 2021.
Show more
Show less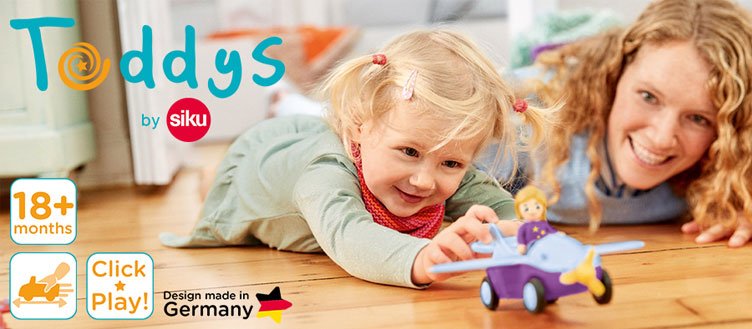 2020
WELCOME TO TODDYS WORLD
The ideal play fun for children aged 18 months and over. In great colours and loving design, the Toddys are our new trend for girls and boys. Playing is highly concentrated and at the same time very individual. The play options are adapted to the different developmental stages and specially developed for children's hands. This makes the Toddys great companions in the children's play world. They are fun to play with, promote development and are versatile, so the Toddys conquer the hearts of children and their parents.
To Toddys town
Show more
Show less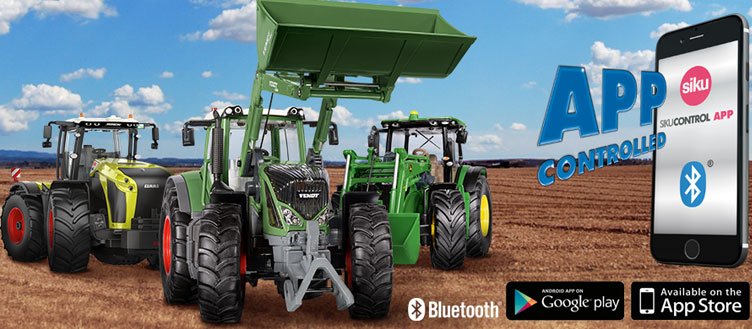 2019
MORE FUN WITH APP CONTROL
Innovative and particularly true to detail and rich in function. This is what siku and the remote-controlled vehicles of the SIKUCONTROL range stand for. With the new SIKUCONTROL APP, Bluetooth technology and numerous features, the new SIKUCONTROL tractors Claas Xenion 5000 TRAC VC, Fendt 933 Vario with front loader and the John Deere 7310R with front loader promise even more playing fun for young tractor drivers and those young at heart - at home and on the road. With the free SIKUCONTROL APP, all functions, lights and gears of the tractors can be controlled with smartphone and tablet (Android and iOS technology). Alternatively, the SIKUCONTROL models can also be controlled in a set with a Bluetooth remote control module.
Show more
Show less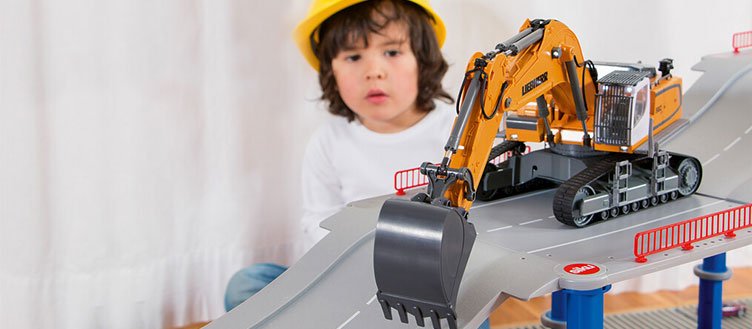 2017
SIKUCONTROL-HIGHLIGHT!
In the SIKUCONTROL product range, the Liebherr R 980 SME crawler excavator, with a weight of 2 kg, and its absolutely true-to-original functions delight and ensure a special radio-controlled play experience.
Show more
Show less
2016
NEW MANUFACTURING FACILITY
In collaboration with the existing works in Germany and China, the new manufacturing facility opened in 2016 in Poland makes possible a comprehensive improvement of worldwide logistics and deliverability, as well as ensuring the most up-to-date production standards.
Show more
Show less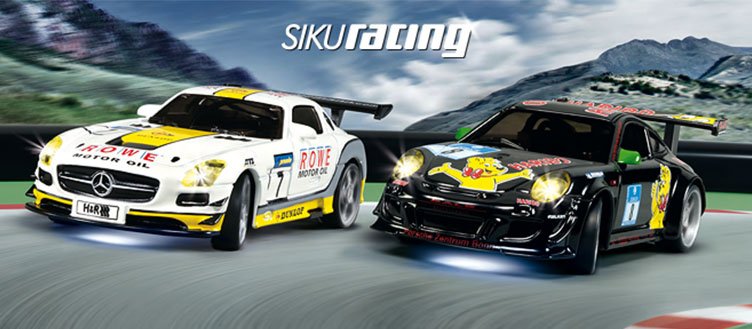 2013
FULL SPEED AHEAD WITH SIKU RACING
he SIKUracing series won the ToyAward 2013 and Trader'sFavourite 2013, and SIKU launched a new concept for a race track free of lane markings. With two 2.4 GHz radio remote-controlled racing cars, a new chapter begins for racing fun in the kids' playroom!
Show more
Show less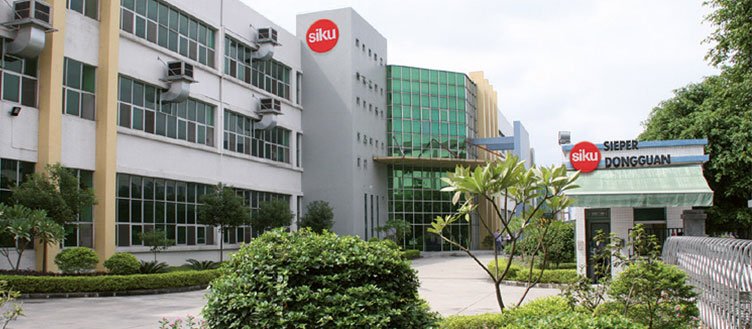 2007
OWN PRODUCTION SUBSIDIARY IN CHINA
Demand for high quality siku toy models is growing globally. To meet this increased demand, in addition to its sites in Germany and Poland, siku has now also set up its own production site in China. Now multi-millions of siku toy models can be produced and dispatched every year. But that's not all: logistics routes to markets in Asia are much shorter and therefore more eco-friendly.
Of course, siku toy models manufactured at all three sites fulfil German and international toy safety standards and guidelines. 
Show more
Show less
2004
High-Tech with SIKUCONTROL
Still on course for success – with SIKUCONTROL there's more motion in play! For the first time, siku tractor models are electronically operated by remote control. The model range started at the end of 2004 with two tractors. Over the years ahead, the successful series was continually developed and expanded. It's still among the most popular series of the siku model range.
SIKUCONTROL
Show more
Show less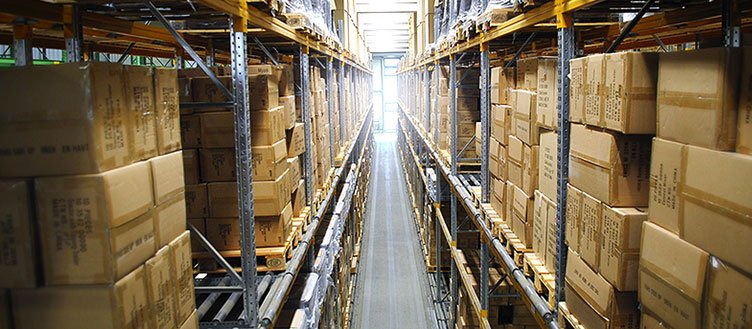 1995
NEW LOGISTICS CENTRE
The 25-metre high, fully automated high rack warehouse has space for over 6,000 palettes and millions of siku toy models!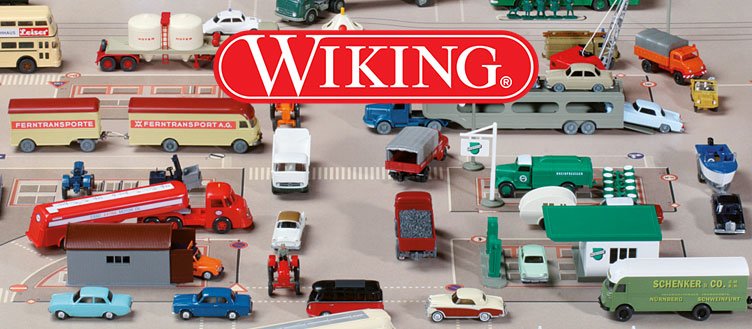 1984
THE SIKU FAMILY IS GROWING
siku takes over the traditional Berlin company, Wiking Modellbau GmbH & Co KG. WIKING produces authentic model vehicles made of plastic and to scales 1:87 (HO) and 1:160 (Spur N) as well as die-cast models to scales 1:32 and 1:43. Offering as much diversity as siku, WIKING's product range is being continually expanded. Since 2008, WIKING has been producing 1:87 scale radio remote-controlled models: the premiere model was the compact Rosenbauer line, a fire engine LF 10/6 t. The technology, which isn't obvious from the model's visual look, is based on the world's newest and probably most sophisticated radio technology (2.4 GHz-/ISM band). 
Products from the WIKING brand are highly sought after among collectors' groups. Model aficionados can further develop and add their own finish.
Zur WIKING website
Show more
Show less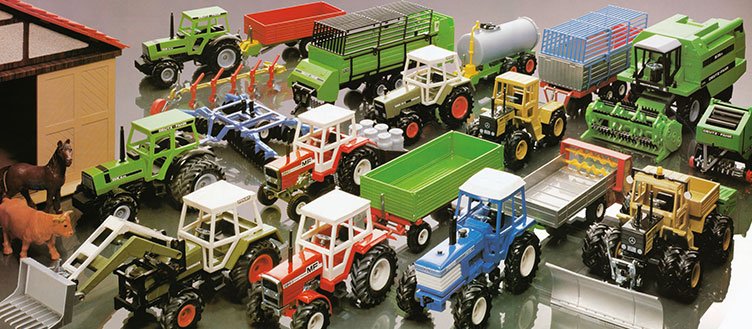 1983
A MILESTONE: SIKU FARMER
SIKUFARMER – agricultural machinery models to 1:32 scale were introduced for the first time and, in the years ahead, they evolved into one of the most successful series in the siku models range.
SIKUFARMER
Show more
Show less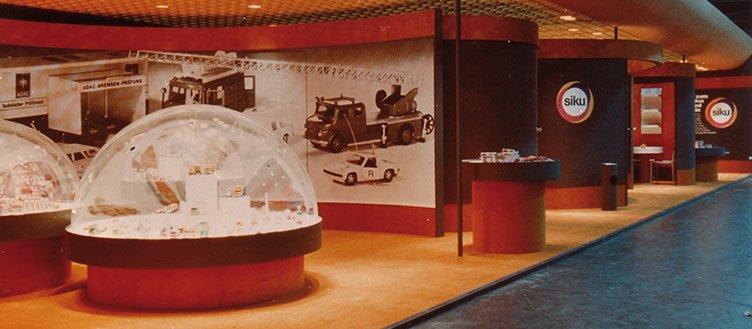 1970
In a new look
siku appears in a new corporate design. The colours violet, magenta and orange are gradually being changed on all packaging and media. At the same time, siku presents itself with an impressive stand at the toy fair in Nuremberg.
Show more
Show less
1963
ZINC DIECASTING
A new era begins: as a first, siku produces toy models in die-cast zinc metal. It started out with 16 models and now the product range includes over 500 toy models.
Show more
Show less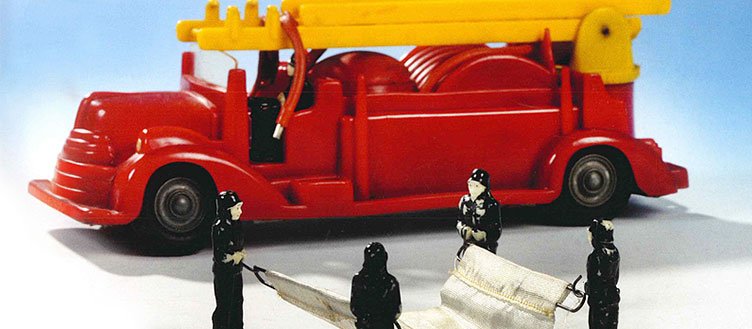 1950
Trademark application
Registration of the trademark siku (SIEPER KUNSTSTOFFE). siku is one of the exhibitors at the 1st Nuremberg Toy Fair and shows plastic toys (including a fire engine) there for the first time. In the following years, the range of toys is continually expanded.
Show more
Show less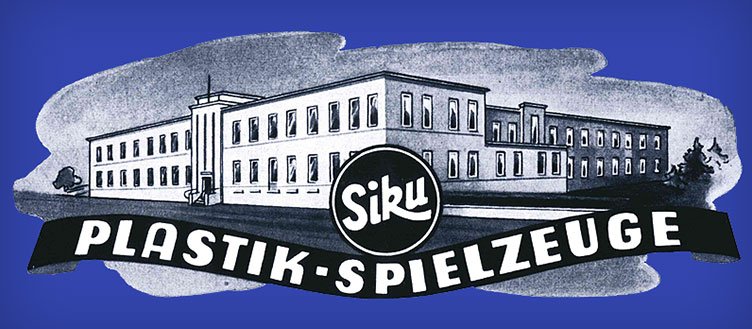 1921
Start of a success story
In 1921 Richard Sieper founded a foundry company in Lüdenscheid, the origin of today's Sieper Group, at the beginning of inflation. Manufacture of consumer goods such as aluminium cutlery and ashtrays. Beginning of the development and production of new products made of less known thermoplastic plastics at that time.
Show more
Show less